Celebrations Mark The End Of A Busy Season
Since our last blog we've enjoyed a busy Summer and Autumn season and its nearly over so, there's time to tap the keyboard again.
Firstly, we are pleased to be able to tell everyone that we have just returned from the Bed & Breakfast Association New Zealand 2016 Conference where Whakaipo Lodge has picked up the Supreme Excellence Award. This Award recognises excellence across a range of areas including guest experience, marketing and business management, environmental and sustainability, industry and community engagement. With a relatively short involvement in the industry we were surprised and delighted to win this Award.
Angie & Garth London with B&B Association NZ President, Kathryn Officer & Secretary Fiona Rollings with the award, Te Toki Pounamu, a greenstone adze.
Our Summer concert , supporting Bike Taupo, and featuring Andrew London and his band was a success. Despite the cyclone forecast the weather behaved and a great time was had by everyone. Andrew played new material from his album "Let's Have Friends Around For Dinner",as well as old favourites such as "Emily Bay".
We are pleased to be able to announce that the 2017 Whakaipo Lodge Summer Concert will be featuring a diverse line-up with Laura Collins' Back Porch Blues Band, Wayne Mason and Andrew London all performing. These guys collectively, and individually, are legends of the NZ music industry so get Saturday 25 February 2017 into your diaries. This one will be a cracker!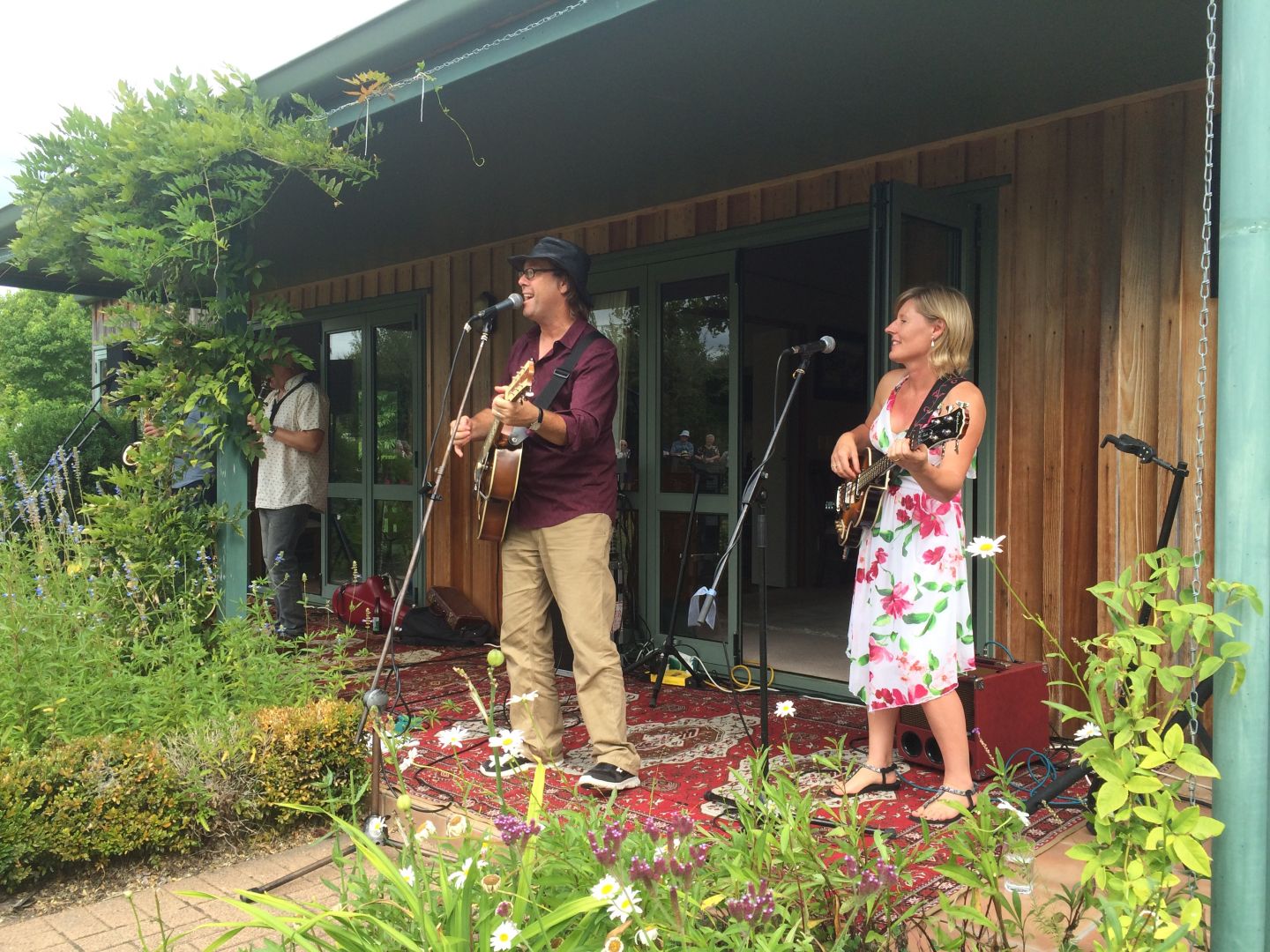 The Summer season has been huge with fishing, biking and hiking, relaxation, food and wine, all proving to be big drawcards for visitors to the Lake Taupo region. With our long Summer and very mild Autumn we were still swimming in the lake into May and no wetsuits were required! Guests taking the opportunity to fish the lake on Bravado 3 were rewarded with good catch numbers and some nice trout to take back to Whakaipo Lodge. Naturally we were only too pleased to be able to smoke and serve these with some fine local wines.
| | |
| --- | --- |
| Blair & Amber from Minneapolis took 3 of the 14 trout landed from Bravado 3 with one baked for their enjoyment. | Blair & Amber from Minneapolis took 3 of the 14 trout landed from Bravado 3 with one baked for their enjoyment. |